The official Lotteries website and their Apps, as the only official one, ensures continuous verification that there are no players placing bets that have declared problems of gambling addiction.
To ensure responsible gaming and the control of expenditure, there are general limitations for all users and specific limitations may exist for some players.
The most important current game limitations related to this concern for Responsible Gaming are the following:
It is not possible to have a balance on the Lotobolsa higher than €400. Going over this balance automatically incurs a download to the current account provided by the participant.
A limit is set on the maximum amount of transfer of prizes that are stored in the Lotobolsa, defined by the player: You can set an amount which, if any prize exceeds it, the amount will be transferred directly to the current account instead of being sent to the Lotobolsa. Unless indicated otherwise, the default limit is €2,000. In relation to Lotobolsa downloads, the number of direct Lotobolsa downloads is also subject to restrictions (one daily and twice a week), and in order to prevent money laundering, SELAE may restrict authenticated access to the website to those users who show suspicious signs of this type of activity.
Collection of large prizes: any amount greater than or equal to 2,000 € shall be deemed as a large prize and shall follow the procedure set out in this website for collection, and will never be credited to the player's Lotobolsa.
You can define a weekly spending limit: this limit is set by the player in self-limit mode to control their spending on gambling. Each time you try to play, the system will ensure that the amount of the bets placed during the week (from Monday to Sunday) does not exceed this value. (It is possible to modify this limit if desired).
Internet gambling limits

Self-limitation of stakes and online gambling
Pursuant to Article 36 of Royal Decree 1614/2011, enacting the aforesaid Gaming Regulation Act 13/2011, with regard to licenses, authorisation and gaming registration, SELAE does not currently allow participants to deposit amounts in excess of:
400 Euros per day

1.500 Euros per week

3.000 Euros per month
All participants have the option of reducing the authorised deposit limits. Any reduction of the deposit limits authorised by the participant will take effect immediately.
Regardless of the aforementioned deposit limits, the participant's online player profile has a field where they can indicate the maximum amount of weekly expenditure. Each time they try to participate in our games, the system will control that the amount of the bets placed during the last seven days does not exceed that value.
The modification of these limits can be done once you have authenticated in the Loterías y Apuestas platform and, from the options shown in the menu of your electronic wallet, select "OPTIONS".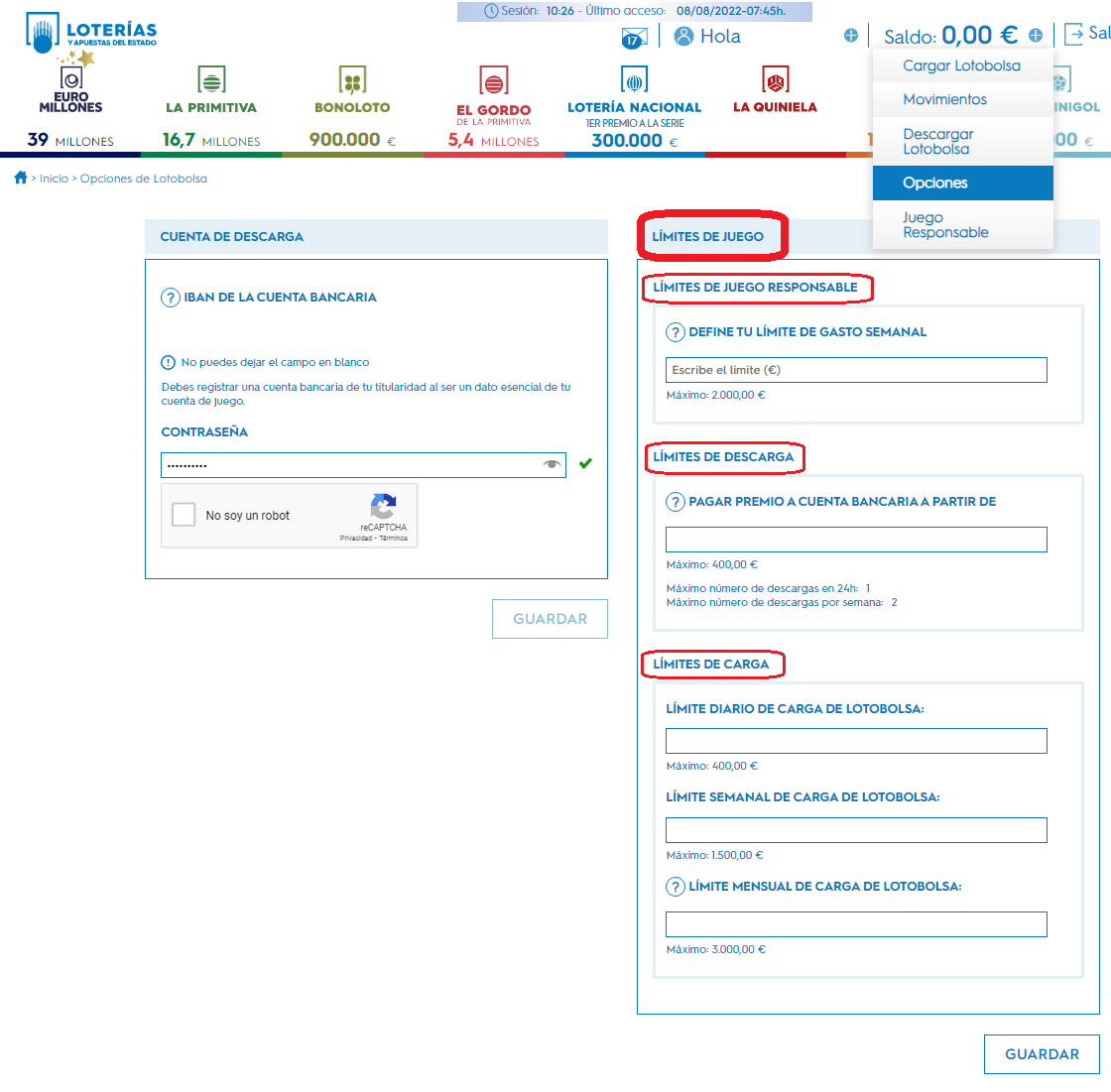 Find more áinformationó on about Responsible Gambling here.
< br>
If you want all the information on Responsible Gambling, you can download this document