Quinigol
Real Madrid

-

Sevilla

Valencia

-

Celta

Real Sociedad

-

Málaga

Betis

-

At. Madrid

Levante

-

Athletic Club

Villarreal

-

Barcelona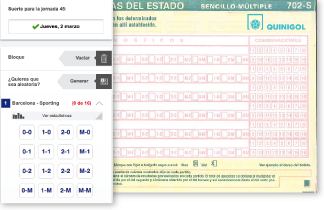 Calendario de jornadas del Quinigol Temporada 2016-2017
Calendario provisional El Quinigol verano 2017
How to play
Choose the numbers and click "Continue"

The bet is for the immediately following round of football games.

Choose the 6 forecasts in each bet. Mark the result for each encounter considering that "M" means 3 or more goals.

Different combinations of up to 16 forecasts may be played by game. The more numbers of multiples you have, the larger your bet and your chances of winning will be.
Review your bet and click "Next"

Choose whether you wish to save your bet and review it before paying.

Choose the details and click "Next"

Choose whether you wish for us to play this bet weekly for you. ("Subscribe")

Purchase your bet

Each bet costs 1 €. We will charge the price from your lotobolsa balance, previously loaded.

In general you will receive a prize if you guess at least two results. (See the legislation to this regard).

The scrutiny is carried out 30 minutes after the holding of the last event of the Football round.

More Information