Play Euromillones
You have to select a minimum of 5 numbers (1 to 50) and two stars (1 to 12) for each bet. If you wish, you can select your numbers for each bet or the system can do it automatically for you, randomly.
The price of a bet is €2.50.
You have two ways to play and increase your chances of winning:
Single Bets: When you select 5 numbers and 2 stars only. This means you can play every time before you pay up to a maximum of 5 bets on a single ticket.
Multiple bets: When you select more than 5 numbers (up to 10) or more than 2 stars (up to 5) on each bet. The amount of the bet depends in this case on the number of combinations that you mark.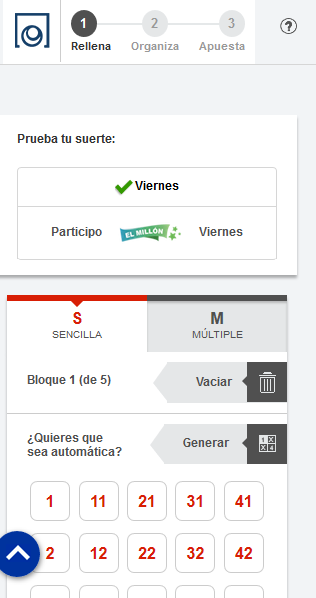 Competitions are held weekly on Tuesdays and Fridays. You can choose to participate in one (the next to be held), or both if they have not been held yet. In the latter case you participate with the same combination in both draws.
Remember that if you win a prize of more than €2,000, so that we can proceed directly to the payment you must indicate from the details in the winning bet the bank account held by you where you want to receive the prize within three months from the date of the holding of the last draw in which your winning bet participated.
The approximate odds of winning in EuroMillions are as follows:
| | |
| --- | --- |
| Category | Approximate odds of winning |
| 1st (5+2) | 1 in 139,838,160 |
| 2nd (5+1) | 1 in 6,991,908 |
| 3rd (5+0) | 1 in 3,107,515 |
| 4th (4+2) | 1 in 621,503 |
| 5th (4+1) | 1 in 31,075 |
| 6th (3+2) | 1 in 14,125 |
| 7th (4+0) | 1 in 13,811 |
| 8th (2+2) | 1 in 985 |
| 9th (3+1) | 1 in 706 |
| 10th (3+0) | 1 in 314 |
| 11th (1+2) | 1 in 188 |
| 12th (2+1) | 1 in 49 |
| 13th (2+0) | 1 in 22 |
In addition, with each bet you place, and for the same price, on either Tuesday or Friday, in addition to playing Euromillones you participate in El Millón draw , in which you can win 1 Million €: Simply, when you make your Euromillones bet you will be assigned a 3 letter, 5 number code (printed on the virtual ticket) with which you will participate in this linked game, and therefore you select this draw in addition to the usual Euromillones. There is always a winner of El Millón in Spain.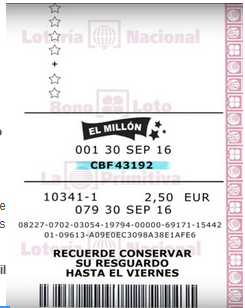 For an average of 5 million bets per draw, the approximate odds of winning El Millón is as follows:
| | |
| --- | --- |
| Category | Approximate odds of winning |
| 1st Category: | 1 in 5,000,000 |
Sporadically promotions known as Lluvia de millones are done in which draws of 1 million euros are spread between all Euromillones players, at no extra cost. To participate in these promotions you do not need to do anything different: by participating in the Euromillones draws associated with the promotion, you will be assigned a code with which you opt for one of these prizes. The dates of these Lluvias de Millones are decided by the lotteries of the European countries that make up the Euromillones community.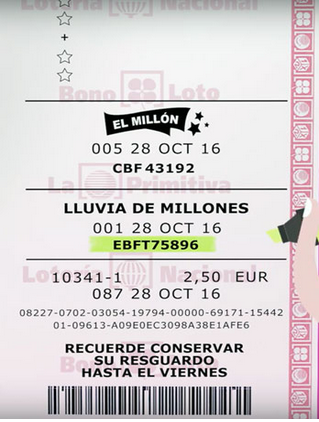 Euromillones draws always have a guaranteed prize pool of at least €17 Million and can reach a maximum of €250 million.
In Euromillones you will have a prize if you guess at least 2 numbers or 1 number and 2 stars. In El Millón and the Lluvia de Millones offers you will have a prize if the respective codes of your voucher are winners.
The draws take place on Tuesdays and Fridays at 9 p.m.