How to register on the website
SELAE guarantees that online betting has the same status as the games at their points of sale, provided that this portal (www.loteriasyapuestas.es) or official the Apps are used.
This guarantee comes from the implementation on this website of the current legislation in the field of online gambling and guarantees that your bets are stored directly in our central systems without intermediaries and with total security.
To play please note that you must be at least 18 years of age. SELAE ensures minors do not play by verifying the personal data entered in the registration process.
It is mandatory to provide your personal data to verify you are of legal age to ensure responsible gaming and to ensure that the prizes are paid to the person to whom the data corresponds.
---------------------------------------------------------------------------------------------------------------------
To register, simply fill in the entire form on the "Register" button in the header of the website:

Registration consists of two steps:
First step: Fill in your personal identification data as it appears on your NIF/NIE: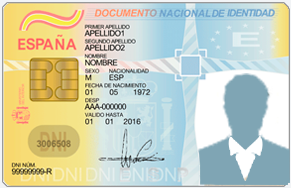 Second step: Fill in the rest of data necessary for the registration process. Required fields are marked with an asterisk (*):
You can check the personal data we request from you in the first and in the second step of the process here.
Once registered, you will be able to place your bets and collect your winnings directly, without worrying about saving your tickets.