How to change your personal data or password
Once you have completed the registration, you can access your personal information directly in the "My Data" menu in the "Profile" section to check them. Keep in mind that you can only modify those that have not been used to verify your identity, as laid down in the Gaming Law.
----------------------------------------------------------------------------------------------------------------------
You can change your password whenever you want to, by accessing the website and doing so in the "Access Data" section of "My Details".
If you cannot remember it, you can always
request a new password:

We will ask you for your e-mail address and verification text box to prevent unwanted access.
You will receive an email with a link so you can update the password yourself.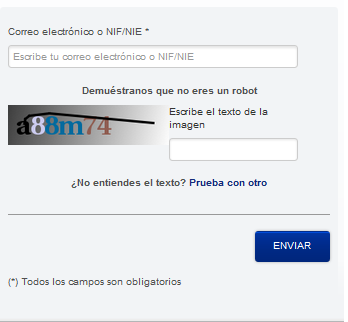 If you cannot remember your password and your email is not valid, you will not be able to request a new password through the normal procedure. In this case you must send us an email, attaching a photo of both sides of your NIF/NIE, and inform us of the new e-mail at the address internet@selae.es,ndicating in the subject: "Change of email address". Our User Services Centre will be updated with the new email address you indicated and you will receive an email at the new e-mail address, confirming the change. Once you have updated your email address, you will be able to change your password to continue playing with us.
modify the bank account held by you
To make any modification you must be logged into the system. On the right side of the balance of the Lotobolsa, you will find a circular icon with a + sign that, after pressing it, will display a vertical menu with several options as seen in the following figure:
We select the option entitled OPTIONS so that a screen appears in which we can modify the data of the bank account held by you.
We fill this in, confirm the access password of our user, and press the SAVE button